by Regina Q. Banks, Director
POLICY COUNCIL MEETING AND PRIORITIES: The policy council of the Lutheran Office of Public Policy- CA met at the Luther Center in Glendale, CA on October 26, 2019 to discuss the legislative priorities of the ELCA and LOPP-CA, welcome new staff and plan FUNdraisers for the upcoming program year. It was a great meeting and much was decided. Look for updates soon. But set your calendars now for LUTHERAN LOBBY DAY 2020: Wednesday May 20, 2020. We will use this opportunity to again engage with legislators and staff on issues of concern to Lutherans across the state.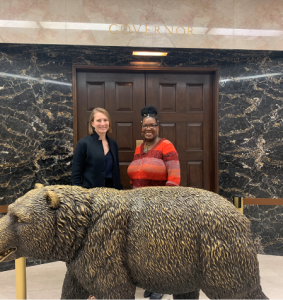 Our priorities for 2020 have shifted but continue to reflect a deep concern for the least and the last in our communities, and care for creation and justice in our golden state. We will continue to advocate for the elimination of Deep Childhood Poverty and accompany those who immigrate to and migrate within California. After listening to your concerns during our congregation visits and in consultation with our partners at Lutheran Social Services of Northern California, we are adding engagement with and for the unhoused to our portfolio of issues. And with the addition of Nicole Newell as our Hunger Advocacy Fellow, we are adding food and farming as a new policy priority for the 2020 legislative session. As the largest producer of food in the U.S., California is dominated by large farms relying on undercompensated migrant labor and extensive use of water throughout the driest of months. These farming systems are too often disconnected from the processing, distributing, eating and waste aspects of the cycle. In keeping with God's call to care for creation and our neighbor, LOPP-CA seeks to promote equitable food and farming systems in California that support healthy communities, full bellies and the preservation of vital ecosystems. Our policy council has decided to continue to support our ministry and secular partners in the implementation of the Clean Safe Affordable Drinking Water Fund though take a less active role.
All of these issues and more will be discussed leading up to and during Lutheran Lobby Day 2020 on May 20, 2020. If these priorities are in your area of expertise or you are looking for ways to get involved with LOPP-CA, there are openings for synod representatives in Pacifica, Sierra Pacific and Southwest California synods. Contact us at regina.banks@elca.org to discuss your service.
SYNOD AND CONGREGATION VISITS: A sincere Thank You goes out to the pastors and members of Immanuel Lutheran Church, San Jose; Ascension Lutheran Church, Thousand Oaks; University AME Zion Church, Palo Alto; and Advent Lutheran Church, Morgan Hill for welcoming us into your worship experiences. We continue to delight in the varied ways that the Holy Spirit manifests in your families. Continue to invite us. We will continue to walk with you.
Thank you to Bishop Mark Holmerud and staff of Sierra Pacific Synod for their hospitality during the 2019 Professional Leaders Conference at Monterey Tides. LOPP-CA was offered primetime to talk about the church's way forward through advocacy, and God is truly still working through contacts and connections made there. Similarly, a big thank you goes to Trinity Lutheran Women of the ELCA members for welcoming our Director Regina Q. Banks' offer of the Sunday sermon on October 20th. This was her first sermon. She was humbled and blessed to take that journey with you.