Lutheran Office for World Community, United Nations, New York, N.Y.
Dennis Frado, director
ELCA HIV & AIDS STRATEGY: In Commemoration of World AIDS Day (1 December each year), LOWC Program Associate Rebecca Anderson spoke on ELCA's HIV & AIDS Strategy at a one-day Symposium (7 December 2019) hosted by the Peoples' Community Evangelical Lutheran Church's HIV Awareness project, in Baltimore, MD. The theme was "Ending AIDS 2030, Act Now."
Dr. Ulysses Burley III (CEO of UB the Cure) focused his presentation on the UNAIDS Fast-track strategy to end the AIDS epidemic by 2030. 30 countries worldwide account for 89% of new HIV infections. The UNAIDS Fast-Track Strategy stresses the necessity of concentrating its resources towards the most affected cities and communities within those countries most affected. This requires significant commitments from both national and international sources.
Ms. Anderson highlighted the Strategy's recognition that "the body of Christ has AIDS… [we are] a church that is HIV positive." The Strategy urges the Church to turn outward in compassion through a multifaceted approach of prayer, charity, advocacy and education in combatting the HIV & AIDS pandemic. ELCA, in partnership with the Lutheran World Federation, have been working with companion churches, partners, the government and civil society to "halt the spread of HIV through effective prevention, treatment and care, eliminate the stigma and discrimination experienced by those who are HIV-positive and reduce the conditions of poverty and marginalization that contributes to the spread of HIV."
Derrick L. Weston (Director of Programs and Volunteers at HopeSprings), spoke about the faith community response to the HIV and AIDS epidemic, particularly in Baltimore and Maryland. Mr. Weston shared statistics for the Baltimore area, stating that the "Baltimore-Columbia-Towson Metropolitan Region is 10th in the nation for diagnosed HIV cases and 4th in the nation for people living with HIV, with 1 in 41 people in Baltimore City HIV positive." Mr. Weston shared HopeSprings' best practices, bringing those affected back into a positive relationship with the church. HopeSprings offers a holistic approach and appropriate referral services when working with those affected and works together with the faith community, providing wholistic ministry training and community engagement training.
A Q&A period featured Ms. Patrice Henry (Senior Community Program Coordinator/Project LINK Patient Advocate, John Hopkins University – School of Medicine) who spoke about living with HIV & AIDS. Diagnosed late and considered 'a miracle' by the doctor who correctly diagnosed her, Ms. Henry spoke of her journey fighting the stigma she grew up with and her experience counselling those affected.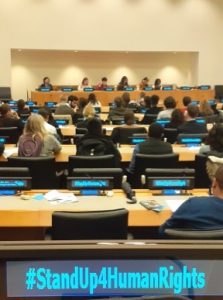 HUMAN RIGHTS DAY: On Human Rights Day (December 10), the United Nations Office of the High Commissioner on Human Rights (OHCHR) hosted an event titled "Celebrating Human Rights Day: Youth standing up for human rights." In his introductory remarks, Andrew Gilmour (Assistant Secretary-General, OHCHR) spoke about the "sustained and sometimes ferocious pushback against the entire global human rights agenda that we haven't seen before." The United Nations Secretary General Antόnio Guterres commended the efforts of young human rights activists, stating "they are powerful torchbearers for a better future, and we owe them all our support." A video message was given by the High Commissioner for Human Rights, Michelle Bachelet, who reminded viewers that "what is at stake is our freedom, our security and our environment, we must all rise up peacefully to achieve a world of rights for all."
A panel discussion featuring youth took place, moderated by Jessica Stern (Executive Director of OutRight Action International) who emphasized the importance of UN using universal language in policies that translates into local languages. Fatou (Toufah) Jallow (23), from The Gambia, supported this, commenting on her struggle to break the silence and stigma around rape after experiencing such sexual violence, as the English word translates in her local language to "falling on someone" and does not express the gravity of the human rights violation. Feliciana Herrera Ceto, (23) a youth indigenous leader from the Ixil Region in Guatemala, was unable to attend due to her visa being denied but sent her remarks including "[Human Rights] have come at a great cost. I have been criminalized for standing up for the human rights of the indigenous/for exercising my rights to self-determination in order to keep peace in our communities. We don't enjoy Human Rights." Carl Smith (17) from the indigenous Yupiaq tribe in Alaska commented on the way climate change has had a detrimental effect on his traditional and cultural hunting rituals. He submitted a complaint to the Child Rights Committee alleging that climate change is violating his human rights. Alexus Lawrence (18) spoke of her childhood experience of homelessness and now advocates to change the face of homelessness, urging all to "understand your power, understand your privilege and use it."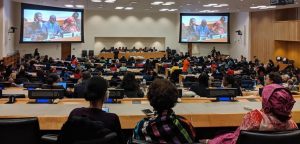 COMMEMORATION OF THE 40TH ANNIVERSARY OF CEDAW: On December 18, the United Nations held a commemorative event for the 40thanniversary of the Convention on the Elimination of All Forms of Discrimination against Women (CEDAW). Since its adoption by the General Assembly in 1979, it has become a leading force for transformative change for women's equality and empowerment. Assistant Secretary-General Andrew Gilmour (OHCHR) stated in his opening remarks that "one manifestation of all this is cases of intimidation and reprisals carried out against women who have cooperated with the UN and the human rights mechanisms."
The President of the General Assembly, H.E. Mr. Tijani Muhammad-Bande, highlighted "it is a day to celebrate…this treaty has significantly improved the lives of women over the last 40 years." Mr. Muhammad-Bande urged men and boys around the world to understand that a woman in power is not a threat and called on all Member States to uphold the rights of women.
In the following panel discussion, Ms. Bandana Rana (Vice-Chair of the CEDAW Committee) highlighted that CEDAW has "received hundreds of state parties reports on their obligations to promote and protect women's rights", and has seen an increase in the adoption of "legislative and administrative reforms to eliminate discrimination and prevent gender-based violence against women." Ms. Rana stated "we must affirm the gains we have made in advancing human rights, build on the hope of women's mobilization and transformative actions, and take collective action to forge solidarity with other movements demanding accountability of its states and the private sector."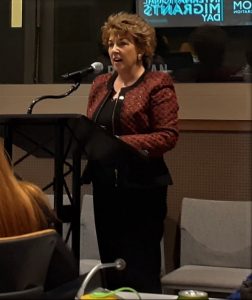 INTERNATIONAL MIGRANTS DAY CELEBRATION: The United Nations celebrated the resilience, human rights and dignity of Migrants worldwide on International Migration Day (December 18). The International Organization of Migration (IOM) hosted an event of music, documentary sharing and firsthand accounts of migration from the Democratic Republic of Congo to America. In his opening remarks, Mr. Ashraf El Nour, the IOM UN Office Director, highlighted that "we often forget the experiences, stories, sacrifices of individual migrants. Today we would like to celebrate the human face of migrants…Human mobility should not be prohibited or restricted, or even worse – criminalized." Mr. Nour emphasized that migrants add value to the societies they are in and urged all to quell toxic migration narratives.
H.E. Ms. Gerladine Byrne Nason, the Permanent Representative of Ireland (pictured), commented from a global perspective that "migrants today are all too frequently treated as a threat to security". She stated the need to engage with host countries to eradicate frequent toxic migration narratives. Ms. Nason shared 2019 migration statistics, stating in 2019 there were "25 million refugees, 3.5 million asylum seekers and 41 million internationally displaced peoples."
A film screening of "One Way Ticket", was showcased and the Director and two of the film's protagonists, Mr Jean Pieere Ntegyeye and Mr. Isaiah Bahati, joined for a panel discussion around their journey from the same migrant camp in the Democratic Republic of Congo to America. Mr Gregoire Grosset, the director, commented on the interviews he conducted within migration camps and highlighted that "even when they [migrants] face[d] distress, they never complained" and that they maintained quiet dignity through their suffering.
Read International Migration Day UN News article here.
NEW LOWC FACEBOOK PAGE! The Lutheran Office for World Community has some exciti

ng news. We now have our very own Facebook account that can be accessed here. We will share more of our work and engagement with the United Nations on this new media platform and welcome all to the page!