Lutheran Office for World Community, United Nations, New York, N.Y.
Dennis Frado, director
HIGH-LEVEL MEETING ON 30TH ANNIVERSARY OF THE CONVENTION ON THE RIGHTS O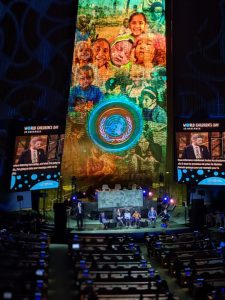 F THE CHILD: The United Nations General Assembly held a High-Level Meeting for the 30th Anniversary of the Convention on the Rights of the Child (CRC), on November 20, 2019. This convention protects the rights of children everywhere to be free from discrimination, violence, and neglect and remains the world's most ratified treaty. Opening Remarks were given by H.E. Mr. Tijani Muhammad-Bande (President of the General Assembly), H.E. António Guterres (UN Secretary-General), Ms. Henrietta Fore (UNICEF Executive Director), and other Special Representatives/ Rapporteurs. These top UN officials noted the important gains that had been made over the past 30 years and urged refreshed commitments. The meeting featured a "kid's takeover" segment with participation of children and goodwill ambassadors through speeches, multimedia, and artistic performances across the three themes of Climate Change, Humanitarian, and Education. A  meeting concluded with Member States invited to provide their interventions on their perspectives regarding the 30th Anniversary of the Convention on the Rights of the Child. You can access the full event on http://www.webtv.un.org
NEVER IS NOW SUMMIT ON ANTI-SEMITISM AND HATE: LOWC Director Dennis Frado joined Kathryn Lohre, ELCA Assistant to the Presiding Bishop and Executive for Ecumenical and Inter-Religious Relations, in attending the annual "Never is Now Summit on Anti-Semitism and Hate" sponsored by the Anti-Defamation League (ADL). Featured speakers at the November 21 event included ADL International Leadership Awardee Sacha Baron Cohen and ADL Courage Against Hate Awardee Hamdi Ulukaya, Founder & CEO of Chobani. Cohen's serious remarks challenging bigotry and intolerance highlighted the role of social media in perpetrating such attitudes and called for holding leaders of social media companies accountable.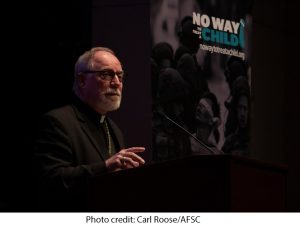 CONGRESSIONAL BRIEFING ON TREATMENT OF CHILDREN IN ISRAELI MILITARY DETENTION: Bishop Thomas Aitken of Northeastern Minnesota Synod represented Presiding Bishop Elizabeth Eaton at a congressional briefing held November 20, which focused on the treatment of children in Israeli military detention. Organized by the Faith Forum on the Middle East, Churches for Middle East Peace, and the American Friends Service Committee, the briefing featured Rep. Betty McCollum (D-4th-MN) and several Christian leaders speaking on the importance of holding governments, including Israel, accountable for observing international human rights standards when utilizing U.S. military assistance as required by U.S. law. Bishop Aitken said, "It is in our DNA as a Church to not turn a blind eye to this issue".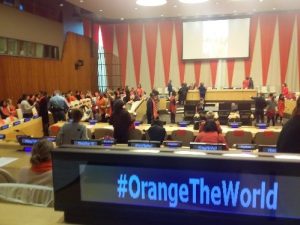 INTERNATIONAL DAY FOR THE ELIMINATION OF VIOLENCE AGAINST WOMEN COMMEMORATION: On November 25 the United Nations held a commemorative event for the International Day for the Elimination of Violence Against Women. Participants wore orange in support of the UN's "Orange the World: General Equality Stands Against Rape" Campaign to end violence against women, with a particular focus over the next two years on rape. One in three women and girls experience sexual violence in their lifetime.
Ms. Ajna Jusic (President of the Association "Forgotten Children of War," Bosnia), a 26-year old panelist, shared her heartbreak of discovering in her teens that she is a child born of war-time rape. Women who were raped in Bosnia, and the resulting children, are still living in a society where they are ostracized. This drives her current work to pass a law acknowledging the "forgotten children of war" as people who have human rights.
Ms. Karen Naimer (Deputy Director of Programs and Director of the Program on Sexual Violence in Conflict Zones/Physicians for Human Rights (PHR)), is a grantee of the UN Trust Fund to End Violence against Women (UNTF), who has changed the handling of rape cases. Using a multidisciplinary approach, PHR gathers professionals from the medical, policing and judiciary fields to work with survivors, ensuring they receive the best care and support possible. She also highlighted that "faith leaders carry enormous clout in their communities. They are change-makers and we need to bring them into the discussion as well" and "anyone who carries a certain level of importance, privilege and credibility in their communities – they are the people who need to be part of the conversation and part of the solution."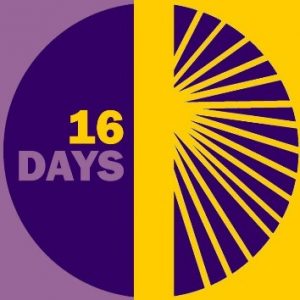 16 DAYS CAMPAIGN: Also on November 25, the 2019 "16 Days of Activismagainst gender-based violence" campaign kicked off. The international, annual campaign coordinated by the Center for Women's Global Leadershipruns for 16 days and ends on Human Rights Day, December 10, 2019. "16 Days is an opportunity for us to highlight what we are doing, what the situation is. But 365 days is to do the work" said Ms. Phumzile Mlambo-Ngcuka United Nations Under-Secretary-General/UN Women Executive Director. This campaign aims to raise awareness, demonstrate solidarity and pressure governments to implement commitments to eliminate all gender-based violence (GBV) against women. Read the full 2019 campaign guide here. The International Labour Organization (ILO) is considering a legally binding convention on GBV. The Center for Women's Global Leadership has created an online 16 Days Toolkit #ILOendGBV, on "ending gender-based violence in the world of work". Through LWF's partnership with Ecumenical Women at the UN (EW), LOWC participated through short blog posts.
PRESIDING BISHOP'S STATEMENT CONCERNING STATE DEPARTMENT ANNOUNCEMENT ON ISRAELI SETTLEMENTS: Presiding Bishop Elizabeth Eaton issued a statement on November 19 in response to an announcement by Secretary of State Pompeo asserting that the "establishment of Israeli civilian settlements in the West Bank is not per se inconsistent with international law." Noting that the ELCA has long called "for an end to the Israeli occupation of the Palestinian territory, [and] the cessation of all settlement activities and withdrawal from settlements on Palestinian territory to the 1967 boundaries", she said the announcement made realization of an end to "the Israeli-Palestinian conflict more difficult and distant, rather than advancing the cause of peace."