LEGISLATIVE UPDATE: May 31 concluded consideration of legislation, and activity has intensified on the 2018-19 state budget, due on Gov. Jerry Brown's desk June 15. The bill process cycles again until final adjournment of the two-year session at the end of August. Faith advocates, who had worked together to support increasing the CalWORKS/Temporary Assistance for Needy Families support to 50 percent of the federal poverty level, part of an effort to tackle child poverty, were amazed to see diverse senators speaking in support with an unexpected final vote of 39-0! Perhaps a more challenging task is continuing work to reach the two-thirds threshold to enact a very small fee on water bills to support safe and affordable water in disadvantaged communities.
STATE UPDATE: California has been blessed with a revenue surplus of about $9 billion, much of that a result of volatile personal income taxes on capital gains. Besides the CalWORKS proposal, Gov. Brown, a fiscal moderate, will be challenged by legislative proposals, supported by LOPP-CA, for income-eligible Medicaid coverage of 19- to 25-year-olds and people 65 and older, regardless of immigration status (#Health4All),  expansion of census outreach efforts, and continued rebuilding of deep cuts to child care during the recessi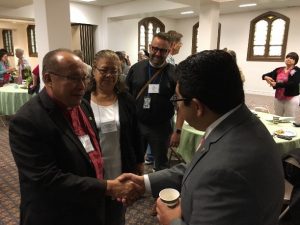 on (#SpringforKids #BillionforBabies).
SYNOD ASSEMBLIES: LOPP-CA Director Mark Carlson participated in the Pacifica Synod Assembly in Palm Desert, and the Sierra Pacific Synod Assembly in Sacramento. Mark was blessed to take Bishop Medardo Gomez and his wife, Abelina, of El Salvador to the Capitol for lunch during the final hectic deadline day, meeting staff, a state senator and the Spanish-speaking advocate for the California Environmental Justice Alliance. They participated in the LOPP-CA synod breakfast with guest speaker Eric Guerra, a Sacramento City Council member brought to the U.S. without documents at preschool-age.
Mark Carlson, Director Lutheran Office of Public Policy