2018 LEGISLATIVE ACTION CONCLUDED:  Sept. 30 was the deadline for departing Gov. Jerry Brown to take action on bills passed in the two-year session. With considerable fanfare, he signed SB 100 (September Advocacy Update), placing California on a path to 100 percent clean electrical energy by 2045.  He signed several other LOPP-CA-supported bills related to protecting California's coast from any new federal offshore oil leases, and expanding environmental justice protections for disadvantaged communities.  Of other bills supported by LOPP-CA, he signed measures enhancing disclosure of campaign contributions for social media political advertising, narrowing the sweep of the "felony murder rule" that has significant racial disparities, and requiring greater disclosure of video footage and personnel information in police deadly force incidents.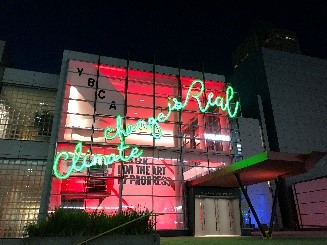 Sign at Global Climate Action Summit
GLOBAL CLIMATE ACTION SUMMIT: LOPP-CA was part of the leadership team for Lutheran-hosted "Talanoa Dialogue" events on "Loss & Damage" and "Just Transition," held at Grace Cathedral during the Global Climate Action Summit in San Francisco.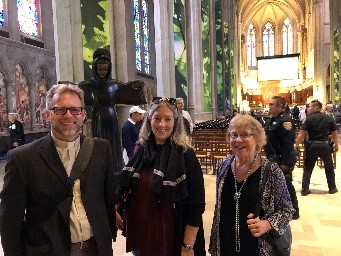 The Rev.  Dan Smith (left), Mary Shaima and Joann Anderson.
NEW BOOK: Retired U.S. Rep. Lois Capps' (Santa Barbara) new book, Keeping Faith in Congress – Why Persistence, Compassion, and Teamwork Will Save Our Democracy, was published in September (Fortress Press). LOPP-CA had been involved in encouraging Capps to pursue the book project as she retired from Congress two years ago. She is a former board member of Pacific Lutheran Theological Seminary, Berkeley, Calif., and an alumna of Pacific Lutheran University, Tacoma, Wash., and Yale Divinity School, New Haven, Conn.